The Man Behind JCEconomics.com
Yes, there is only one tutor at JCEconomics.com – Mr Anthony Fok.  He does it all at this centre – planning the lessons and conducting them, all of them. Mr Anthony Fok is an experienced ex-MOE school teacher having taught in schools for several years and as a private tutor since his undergraduate days in 2005. Highlighted by The Sunday Times newspapers as one of the most celebrated and popular tutors in Singapore (and the sole Economics one), what he brings to each and every student is his patience, warmth and dedication.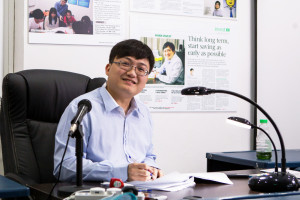 Passionate
Mr Anthony is passionate in two things – Economics and Teaching. Teaching Economics is his true calling. While he used to teach in schools, he finds teaching tuition to be more fulfilling as he has more control over his lessons, and is able to reach out to specifically to those who require help in the subject.
Qualified
An Ex-MOE School teacher, with multiple degrees, Mr Anthony Fok is experienced and knowledgeable both in the subject and in teaching. He has also written multiple A-Level Economics guidebooks and is the author of the yearly Economics Ten-Year Series and is thus familiar with examination requirements.
Endearing
Mr Anthony Fok believes in maintaining a positive relationship with his students. The humour he brings to his lessons also reduces the distance between him and his students. This allows his students to see him as a friend, and they open up to him, asking him for help even out of class.
Inspiring
Mr Anthony Fok loves Economics himself and tries to inspire his students to do so likewise. Other than Economics, he also teaches his students valuable life lessons as he shares his personal life stories.
Many people ask him "Why not expand JCEconomics now that it is so successful to earn more?". Well, his reply is that he believes in not compromising quality over quantity. There is no one that can substitute his teaching and thus he will continue his "one-man-show", being the only tutor at JCEconomics.